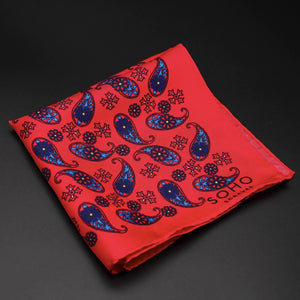 Soho Pocket - Silk Casablanca
SOHO Scarves' very own 'The Casablanca' silk pocket square has a delightfully bold 1960s psychedelic pattern and will add some flair to any jacket. 'The Casablanca' is one of the most fun patterns that we offer at SOHO Scarves to help you effortlessly stand out from the crowd.
This 100% silk pocket square with vibrant, poppy colours is clearly inspired by the hippie movement of the 1960's yet is also a classic motif worn by dandies, beatniks and mods.
The Pocket Square is one of the most used accessories by men. It can easily make a simple piece of clothing look elegant and luxurious. It also demonstrates that the wearer has an eye for detail.
Key features of 'The Casablanca' Silk Pocket Square include:
Paisley-inspired pattern pocket square
Made from 100% silk for a soft luxurious feel
Bright 1960's psychedelic design in bright red with blue paisley
Dimensions: 30 cm x 30 cm
Hand rolled ends
Comes with a gift box
A tasteful addition to any jacket or blazer
Dry clean only