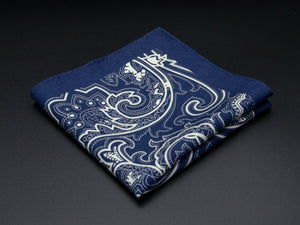 Soho Pocket Square - Kakumae Blue
The blue 'Kakumae' wool pocket square from SOHO Scarves adds a touch of rustic elegance to your jacket. Decorated with cream, paisley-like intertwining patterns, this classic, sixties inspired print pattern goes well with both business and sportswear. The subtly ornate 'Kakumae' will undoubtedly elevate any outfit!
Pocket Squares are one of the most used accessories by men. They can easily make a simple piece of clothing look elegant and luxurious. Wearing one also also demonstrates that the wearer has an eye for detail.

Notable properties of 'The Kalamaja' Woollen Pocket Square include:
Paisley Pattern Pocket Square
Made from 100% soft luxurious wool
Dimensions: 33 cm x 33 cm
Hand rolled ends
Comes with a gift box
A tasteful addition to any jacket or blazer
Dry clean only